RHODESIAN RIDGEBACKS ARE THE RIGHT BREED FOR ME. They are large, alert, athletic dogs who thrive on companionship. Rhodesian Ridgebacks are a highly intelligent, sometimes stubborn dog. They thrive with Obedience Training. Ridgebacks require lots of attention from you! They are not back yard or kennel dogs, preferring to be at your side at all times, Rhodesian Ridgebacks were originally breed in Rhodesia, now Zimbabwe to be all around farm dogs. IS THE RHODESIAN RIDGEBACK THE RIGHT BREED FOR YOU?
Rhodesian Ridgebacks love getting together for some fun in the back yard or on the coursing field!
Party Time!

Sheikh & Paji's kids celebrating Life!

PAJI, 4th from the left loves when her children come visiting.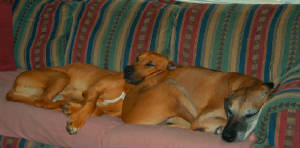 SHEIKH & MOYO JUST RESTING!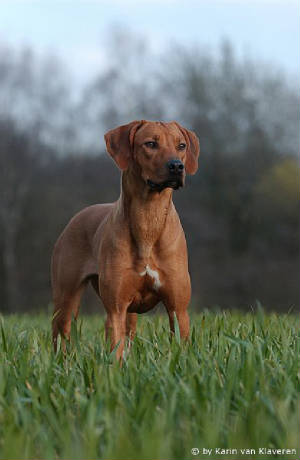 "CANEESHA" Haiba Kaisoon Caneesha,
Sheikh's lovely daughter in Germany.
SIMBAMOYO LOVES TO LAY BY THE FIREPLACE